SUKI:
Life offers one guarantee…death. 

SUKI tells the story of Savannah, an independent go getter, who allows fear to keep her from being completely happy, and Dwayne, a softhearted ex-Marine with a talent for creativity. The couple is destined to find each other and carry out a preordained agreement made long before their human feet enter this Earthly plane. Their connection is tangible and their lives easy – until they are presented with one challenge that shakes them to their cores. 

The couple's subsequent struggle to make sense of their imploding world comes to a head in the epilogue, where a shocking secret is revealed in an overdue letter. 

We all assume we know what love is, but think again. It comes in many shapes and sizes. If you knew ahead of time that you'd never see "happily ever after", would you choose to live at all for the sake of love? 

CF Winn flexes her story telling muscle and shows us why she is an award winning author. SUKI will grab your heart and make you think about your place…and your purpose in this world.
THE BUZZ:
Butterfly nomination for Suki!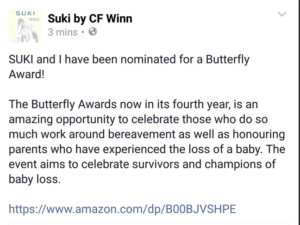 HumorOutcasts Radio Interview with Chris Winn
Interview – The Point of the Quill
Feature on the blog of Jan Romes