How to Write and Share Humor:Techniques to Tickle Funny Bones and Win Fans
Did you know there are writing techniques designed to bring out the funny in all of us? Humor is a difficult genre, but for those who have the desire to make people's lives a little lighter with words, this book is for them. Written in an encouraging and entertaining tone and based on Donna Cavanagh's humor writing workshops, How to Write and Share Humor: Techniques to Tickle Funny Bones and Win Fans highlights the "humor helpers" that writers, business professionals or speakers can use to make audiences laugh out loud, softly chuckle or smile with amusement.
The book is divided into three parts. Part I explains how to use specific humor techniques plus it provides writing exercises so budding humorists can practice their new craft. Part II talks about the importance of blogging on both individual and community sites and the ins-and-outs of social media. And for those who want to take their writing to the next level, Part III describes the new world of publishing and the options that are out there for all authors.
As an added bonus, humorists, authors and comics have contributed "What Inspires my Humor" essays for some reader motivation.
Reviews Amazon kept taking down:
The first time I heard Donna Cavanagh teach at an Erma Bombeck Writers' Workshop, I recognized a very funny woman capable of teaching a medical forensic examiner how to write humor. Her book, How to Write and Share Humor, Techniques to Tickle Funny Bones & win fans, offers writers of any ilk a discerning menu of practical advice, writing exercises, and tips about the changing world of publishing. And she tops it off with inspiring essays by writers brave enough to throw down the humor gauntlet. This is a book for any writer, aspiring or award-winning. – Mary Farr, author 

 
A Must Have For Any Humorist
 
A terrific and entertaining guide. Cavanagh is not only a published humorist herself, but runs a website that publishes other humor writers, and a press that publishes humor books. So she really knows her stuff. Packed with practical information and useful tips… – Roz Warren, author
The Buzz:
Trailer for How to Write and Share Humor from Billy Dees
Interview with Startup Savant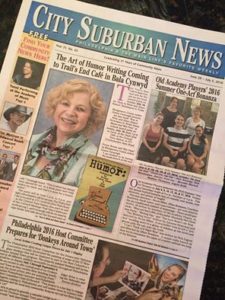 Molly Stevens and ShallowReflections.com
The #SummerofHumor World Tour: Coming to a town or state or country near you soon! 
Bethany Beach Book Signing