Divorce After Death. A Widow's Memoir
Concha Alborg didn't think that anything could hurt her more than the death of her husband from cancer, but hours after his death she learned how wrong she was. Within days of being made a widow, this Spanish College Professor discovered that her marriage and her husband were not what she had envisioned. With a unique point of view, due to her bi-cultural background, and a self-deprecating humor, she takes us on a personal journey. Her strength and determination to build a new life led her down a path that allowed her to reject the veil of widowhood and instead embrace a life of happiness, love and acceptance.
Non-Amazon reviews
 "I found Concha Alborg's memoir truly enthralling—the story of a widow who ends up divorcing her late husband. Although the warning at the beginning of the book—the "spoiler alert"—may seem ill-advised at first, it works surprisingly well as a strategy that captivates the reader. In the role of a voyeur to someone else's life, I could not stop reading to find out what could have happened to a happily married woman to divorce her husband after his death. As I finished the book, I felt a tremendous admiration for an enterprising and resourceful widow who makes her own life, a life full of accomplishments in spite of the obstacles she encounters. This is an uplifting story, full of hope and emotion. It is also an immigrant's story, the story of a woman who juggles between two cultures, two sets of values and expectations. "
María-Inés Lagos, Ph.D. Professor of Spanish, University of Virginia, Charlottesville, VA
And another great review for Concha Alborg and Divorce After Death: A Widow's Memoir: Divorce after Death. A Widow's Memoir is a moving book; it's entertaining, diverse and at the same time it has characteristics of a sociological essay. Concha Alborg captures how American people talk, their mannerisms and costumes. In my opinion, this is Alborg's most American book.
I want to point out how well Concha Alborg writes, the finesse in which she describes the places and people and how the reader can see the different types, telling us their most significant traits, both the amusing or ridiculous. It is all full of vitality. At the same time I am in awe of her extraordinary candid quality, how she opens her life to the reader with absolute innocence.
I especially liked the variety and richness of Divorce after Death, which gives it it's a quality of its own. It's very interesting to point out two aspects that overlap in this book. On one side, there is the widowhood story and her subsequent discovery of the betrayal and the pain it caused. On the other hand, the author has an ironic point of view, full of humor, about all the events that surround the life of a widow: the loneliness of a different life and the possibility of other relationships.
The ending of the book, with the move to a new apartment is most suggestive; a new life in a smaller place, full of light, in the center of town of a great city. The reader feels like going there to see the author, to find her anew in that life that she is constructing for herself.
Inés Alberdi, Catedrática
Universidad Complutense, Madrid
November 1, 2014
In Concha Alborg's book, Divorce after Death. A Widow's Memoir, her personality and grace emerge with a well-defined profile of an intellectual, a feminist and a postmodern woman. She is as well a sensitive, strong mother, a wife and grandmother. The content of the intertwining vignettes offer a diversity of situations and anecdotes around the elusive theme of happiness. As Antonio Machado said: "Happiness passed through your home, but it doesn't visit twice." Concha Alborg in her book is there to contradict the Spanish poet. She throws herself into life intensely, creating her own magic. When she places her feet on the sand and sees her image on a seashell, she reaffirms her own way, made by herself.
In her book, Concha Alborg's travels transform life into an adventure, which is what really matters, and she describes them with an experienced and keen eye. Her impressions on Bolivia, for example, probe into the depths of a Spaniard on a Latin American land. She travels through half the world or a world and a half to get to know, to investigate, to learn. She is not passing by anywhere. She is living the experience and her readers live it with her, they go to the heights with her and fly low when she does. Her tears at the Wailing Wall become a climax, purifying and liberating her. She has arrived at the pinnacle of the great souls who are in a state of grace because they can forgive. She calls it "the highlight of her visit," but it's more than that. It is a way to find peace, for a time at least.
In Divorce after Death, there are encounters and misunderstandings. Her readers laugh with her, not at her. Like the guy who thinks that she is on vacation when she travels abroad with her students, showing the lack of understanding of her profession, as she wisely tells us.
What a pleasure to go into Concha's kitchen, smelling her sauces and condiments, feeling the aromas of a fortifying wine that goes into our bones. The recipes that she generously includes have gone through the cultural sieve and they are authentically Spanish, but accessible to the American table. She tells us of her origins, her parents, her exodus, her family. Everything is relevant.
The reader feels like he or she is going with Concha to the opera, to concerts, on walks, to museums, to wineries, to the beach and on her dates. One can see her writing in a cozy corner, traversing Italy with Peter or in the fancy cruise with death stalking him while she is loving him and taking care of him. His death is synthesized in his pale hands, loved and lost hands that hold her pain. She becomes a widow, but prefers to take care of herself and to be called single. The letter that titles the book, is a diatribe full of irony, sarcasm, anger and profound disenchantment. It is a master piece in its genre, superior to Cinco horas con Mario by Miguel Delibes and other diatribes.
All the aspects of Concha Alborg's memoir demonstrate the impact and quality of her writing. The titles, the structure of each chapter and the book as a whole are coherent and give a meaning to life itself. The journey, apparently exterior, turns out to be an interior journey of encounter with herself. Although she may feel that she is adrift sometimes, like going through life on roller-skates, everything adds up, everything helps to shape her.
The language and the narrative techniques, the dramatic and poetic elements give variety to the text and cause an emotional impact on the readers. This is a heartwarming and heartbreaking story. This is a fully lived life turned into literature. This is a sincere book, diverse and moving, written by an authentic writer.
Cecilia Castro Lee, PhD
October 30, 2014
THE BUZZ:
Photos from Taller Puertorriqueno in Philadelphia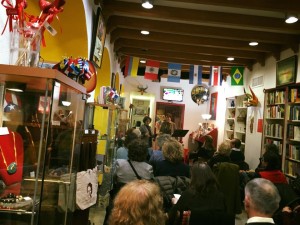 Interview with the Philadelphia Inquirer
An excerpt on the blog of Michelle Franco
Beth, Bad and Beyond at Bethrubinauthor.com
Philadelphia Stories Interview
Photos from Head House Books Signing 2/11/2015:
Photos from The Franklin Inn Club 2/26/2015