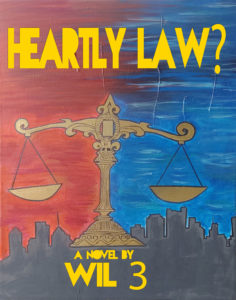 HEARTLY LAW?
Parishioners and non-parishioners alike packed into St. Mary's to be part of something more powerful than religion, but instead of beholding a miracle, they witnessed a would-be assassin shoot Nicholas Rossi — the young man many believed to be responsible for numerous miracles — in the chest from 20 feet away. As Rossi fell to the altar floor, panic overwhelmed the congregation. Younger bodies violently collided with the elderly and knocked them to the ground. Pews were overturned and children screamed as they were separated from their parents in a desperate attempt to flee the church. When the dust settled from the horrific bedlam, only two things were certain: beloved parish priest Father Thomas O'Toole stood on the altar with a .38 Special still smoking from the shot, and his intended victim, Nicholas Rossi, was nowhere to be found.
Ari Meyer, Esquire, a 15-year veteran of the Public Defender's Office, is assigned to represent Father O'Toole at trial for attempted homicide. Meyer doubts that his well-honed skill and wit is sufficient to defend a person charged with shooting another in a church full of people, including two trained police officers watching from the front pew. The case becomes oddly personal to Meyer and puts his personal life into a downward spiral down along with his law practice. Stakes have never been higher for Meyer, who realizes that he is the only person with any chance to keep Father O'Toole from dying alone in a cold jail cell. But with the overwhelming evidence against him, how much of a chance does he have?
Heartly Law?, the sequel to Heartly God?, follows Ari Meyer as he attempts to convince a jury that a single isolated event should not outweigh an entire life dedicated to service and kindness for others.