Full Circle 
Nick McDeare finally has everything he ever wanted. A successful career as a suspense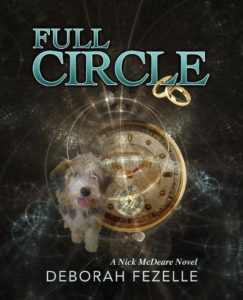 novelist and investigative reporter. A beautiful and talented wife, Jessie, the brightest star on Broadway. And a loving and smart young son Anthony.
But when twelve-year-old Katrina 'Kat' Gillingham drops into Nick's life, it throws his very existence into turmoil. Kat, his daughter from a past affair, forces Nick to confront long-buried memories, ghosts both benevolent and malevolent, hazy images Nick vowed to forget.
Kat stirs the pot for everyone, but no one more than Jessie, who has her own secret she must tell Nick. Timing is everything, and the timing couldn't be worse. How will her husband react?
And why does a middle-aged woman latch onto Anthony? Is she merely lonely, desperate for a family and someone to love? Or is there more to her forced friendship with the young boy?
To make matters more precarious, close family friend Abbie moves in with them, desperate to hide from a menacing stalker.
Set against the glittering backdrop of Manhattan and London, FULL CIRCLE is a psychological thriller about complex family relationships. About ordinary lives hidden behind a facade of celebrity and money. And about a man who comes face-to-face with his own demons.