Full Circle
DISCRETION finds best-selling author and investigative reporter Nick McDeare crisscrossing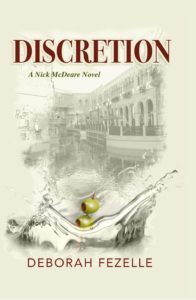 Italy while his wife, Broadway star Jessica Kendle, travels to England. Adding to the international backdrop is a return to the Caribbean island of St. John and the secure walls of the McDeare villa.
Delving into the world of high-end art galleries in Rome, Venice and Tuscany, Nick embarks on the risky mission of finding Ethan Wells. Just who is Ethan and could his shady dealings imperil Nick as well as himself?
Arriving in London with a heavy heart, Jessie rehearses for her West End debut in a much-hyped, multi-million-dollar musical. Is she up to the task, or will the added pressure affect her already precarious frame of mind?
Nick and Jessie's marriage will be put to the test in DISCRETION as their careers separate them for the first time, as they find themselves in a world where up is down, left is right, and nothing happens according to plan. Will they succumb to old habits, ultimately sending them down a dangerous path?
DISCRETION, a psychological thriller, is the fourth book in the Nick McDeare series, following THE EVIL THAT MEN DO, A WALKING SHADOW & FULL CIRCLE.
Deborah Fezelle has a vast background in the arts. She began as a professional actress, training at the Juilliard School in NYC, and worked on Broadway, Off-Broadway, the Kennedy Center in Washington, and other regional theaters around the country. She later moved on to directing and coaching while simultaneously embarking on a writing career. With writing partner Sherry Yanow, Deborah penned five plays, two web series and the first two McDeare novels. After spending twenty-five years in her beloved Manhattan, Deborah now makes her home in North Carolina.